Teachers
Teachings at Chag Tong Chen Tong are based on the Buddhist tradition of Lama Tsongkhapa of Tibet as taught to us by our Founder the late Lama Thubten Yeshe and Spiritual Director Lama Thubten Zopa Rinpoche. http://fpmt.org/teachers/spiritual-director/
OUR GREATEST INSPIRATION

His Holiness the 14 th Dalai Lama of Tibet is the temporal head of the Gelug school of Tibetan Buddhism http://www.dalailama.com/
His Holiness the Dalai Lama's Advice Concerning Dolgyal (Shugden Practice)
FPMT FOUNDER LAMA THUBTEN YESHE 1935-1984

Tribute from Professor Jeffrey Hopkins....
"...............His magnificence was the result, not of a special innate endowment, but of special hard work at embodying and expressing altruistic attitudes. Thus, our learning those teachings within working hard to embody and express them is, it seems to me, the most suitable form of memory of him.
Given the variety and complexity of the Tibetan teachings and the present crucial point in their history, it is important that we realize how much responsibility for the continued availability of this teaching even one person can assume. It is clear that Lama Yeshe did not wait for others to work at incorporating the doctrine; it is clear that he did not view the dharma as a spectator sport, watching someone else and then second-guessing. Instead, it is clear that he decided that he would do what he could do. He showed what a difference a single person with sincere motivation can make. Even those who, like myself, were not formal students of Lama Yeshe, still have much to learn from his activities of compassionate energy."
Personal tributes of Lama from friends and students http://www.fpmt.org/teachers/yeshe/tributes.html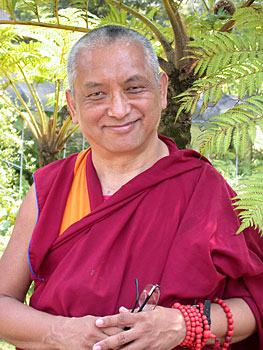 FPMT SPIRITUAL DIRECTOR KYABJE THUBTEN ZOPA RINOCHE
A JOINT BIOGRAPHY OF LAMA YESHE and LAMA ZOPA RINPOCHE
http://www.fpmt.org/teachers/yeshe/jointbio.html
Lama Tsongkhapa
Lama Tsongkhapa (1357–1419) was the founder of the Gelug school of Tibetan Buddhism.

A short biography here: