CTCT warmly welcomes the return visit of Geshe Sherab once again to CTCT in January 2017.
A fantastic way to set off into another New Year - full of promise, peace and positivity with essential guidance to inspire our spiritual journeys
Many new and old student alike anticipate another wonderful experience of Geshe Sherabs' warmth, wisdom and deep compassion presenting un-mistaken methods to actualize peaceful fulfilling life in a format that is accessible to all - ready to put into practice right now - with no time to lose!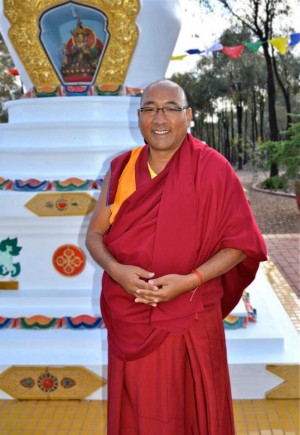 How wonderful to have Geshe Sherab with us to support and guide us in setting our New Year Spiritual Compass for 2017 - with, as ever, No Time To Lose!
To create the very best environment to relax, contemplate and discuss in the company of like-minded friends we have scheduled a program suitable for all levels of interest - for newly interested and for those whom the principles and presentations are already familiar. EVERYONE IS WARMLY WELCOMED
Our program will be hosted at Kickstart Art Centre St Johns Park New Town - Full Program Information HERE
All events are available for free attendance - or by suggested donation - or any amount suitable for you
Financial concerns will never prevent our welcome of everyone who wishes to attend
Please do let us know you are coming via email to This email address is being protected from spambots. You need JavaScript enabled to view it. - your registration will really help our preparations for you - thank you in advance
Friday 13th January 10 am - 12
All About living in REFUGE -most suitable for those that newly took Refuge recently with Geshe Tenzin Zopa and for those already living in these vows and importantly also for anyone curious as to how these guidelines for living can impact our day to day activities in a subtle and positive way. Taking Refuge commitments seals the intention to utilise the path of Buddhist principles to shape your life' activities and positive spiritual development. Discover how the power of mindfully living our lives in reflection upon on our actions, in relation to others and their consequences, moment to moment. Geshela will offer us an understanding of the deep and subtle joy this can bring to our lives each and every day - everyone is welcomed
Free attendance - suggested donation $20 - or any donation suitable for you
Friday 13th 2pm - 4pm - Saturday 14th & Sunday 15th 9 am - 4 pm
Lam-rim Retreat -The unmistaken path to lasting happiness and contentment - A New Year Guide
A short nonresidential RETREAT - discourse, interactive discussion and guided meditation- a quietly dedicated space with an excellent guide presenting the unmistaken methods of the Buddhist teachings for everyday life application - covering the questions we all have - Where does happiness really arise from - how can it be truly lasting? Why do we suffer? how can suffering be transformed - the interdependent nature of all things and my place amidst it all - actions and consequences, how a compassionate heart opens for all, starting from where we are, right now, today, towards peace and contentment...step by step...setting our spiritual compass for 2017
Free attendance - suggested donation $140 - full participation - Day only participation $70 - or by any donation suitable for you
(*It is highly recommended to attend the 'Retreat Orientation session' starting Friday afternoon 2 pm - 4 pm to assist everyone's overall participation throughout the weekend )
What to Bring? Warm comfortable layered clothing, shawl, socks, notebook and pen, joyous curiosity, - your choice of floor cushion, bean bag or chair will be available
PICNIC LUNCH each day -weather permitting in the garden areas outside - please bring a plate to share each day & maybe a picnic rug and hat
Refreshments and morning and afternoon teas provided
Included Course Materials as required
CTCT BOOK and MERCHANDISE SHOP will be open throughout the entire Program - Please see Jen for all your requirements and purchases of the many beautiful items in stock.
Monday 16th - 6 pm - 8.30 pm The Beach Restaurant - Blackmans Bay
Farewell Dinner - Q&A with Geshe SherabWoodfired Pizza and Refreshments of your choice. Weather permitting a walk along the beautiful beachfront together may be included
$20 per person - Everyone warmly welcomed..and big and little kids!
**************************************************
Please help us share this opportunity by forwarding this information/email to your network of friends and family - everyone's small gesture of assistance is a big help!
If you'd enjoy offering a hand with setting up and all the other many tasks required during Geshe Sherab' stay send us an email to This email address is being protected from spambots. You need JavaScript enabled to view it. - THANK YOU - as always, many hands make light work
Your kind Generosity for the Dharma is always warmly welcomed - Visiting Touring Teacher Sponsorship opportunity HERE - thank you
*************************************************
Haven't met Geshe Thubten Sherab during his previous visits to CTCT? Please enjoy the following introduction ......
ABOUT THE TEACHER - The Master from the New Generation - Geshe Sherab
Geshe Thubten Sherab was born in 1967 in a small village in Manang province, the western part of Nepal, to a Kagyu-Nyingma family. He entered Kopan Monastery at the age of nine and completed his Geshe studies at Sera Je monastery in South India, followed by a year at Gyumed Tantric College. He then completed retreat and teaching assignments both in the U.S. and Asia. He served as Headmaster of the Kopan school from 2005 to 2009, overseeing debate training and tantric training activities. He is now the resident teacher at Thubten Norbu Ling Center in Santa Fe and regularly travels all over the world to teach in other centres.
Geshe Sherab teaches in English, he understands and connects very well with Western students, presenting the Dharma in an accessible, warm, and open manner.
A word from Geshe-la - ' For beginners in the Dharma, the most important thing is to try and integrate one's study and practice. You can see some who are only into study, only intellectual ... They have knowledge like a computer, knowing everything but nothing really touches the heart.'
Geshe Sherabs' SCHEDULE AT A GLANCE
Friday 13
10am - 12 - All About Refuge Discussions
12.30-1.45 - Shared Picnic Lunch
2pm - 4pm Retreat Orientation
Saturday 14 - Retreat - Full Day
9am - 12.30 - Teachings / Meditation
12.30-1.45 - Shared Picnic Lunch
2pm -4pm - Teaching/Discussion
Sunday 15 Retreat - Full Day
9am-12.30 - Meditation / Teachings
12.30-1.45 - Shared Picnic Lunch
2pm - 4pm Discussion /Teaching Retreat Conclusion
Monday 16 - Farewell Dinner - Q&A with Geshe Sherab
6pm - 8.30 pm The Beach Restaurant - Blackmans Bay
Woodfired Pizza and Refreshments of your choice.
WE LOOK FORWARD TO WELCOMING YOU TO THE CENTRE SOON
If you have any inquiries please don't hesitate to be in touch either via reply email or phone/msg 0410 569909 anytime