Dear  Friends of CTCT Community
Welcome and warmest wishes for the year ahead - may it be full, happy, meaningful and inspirational for each and everyone of us !
Once again we have a very special program in the making with returning  visitors and very special events at CTCT for you.
We hope you will join us collectively to make these activities as available as possible  to as many as possible offering, essentially,precious,longed for  methods to transform the mind - develop the good heart....in all our varied activities of the daily life.
CTCT depends entirely upon dedicated volunteer energy to accomplish all our plans and wishes...so we hope sincerely you may find a time throughout the year that is suitable to lend a hand  in any way small or large.[ even offering a packet of biscuits to the Tea Box is just a most  fabulous thing !!]
Thank you all sincerely for all ongoing interest and support and in advance to  those that will newly offer some form of assistance to CTCT in 2014.
Please find following a brief outline of our 2014 Program :
More details can be found 
here
Consider becoming  a friend  on
Facebook
to  receive regular updates , accounts and photos of our upcoming events
TWO VERY SPECIAL EVENTS IN FEBRUARY TO BEGIN 2014
The Loving Kindness Relic Tour
and
Geshe Thubten Sherab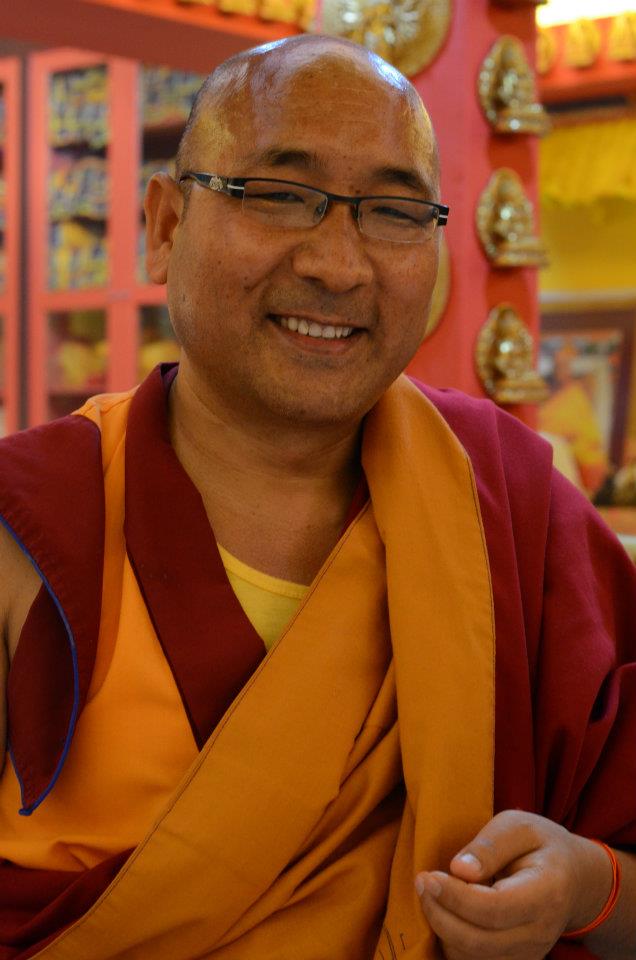 return to Hobart for their second visits.
Venue
: Multifaith Centre UTAS Sandy Bay Campus
General Dharma day- Welcome to 2014 - The importance of this Perfect Human Rebirth - guided meditation |discussion|afternoon tea
Feb 13 -23
GESHE THUBTEN SHERAB returns for 10 days to CTCT
Suggested course contribution $15  for all evening teachings  with Geshe Sherab
Feb 13 7.30pm-9.30pm
Venue: The Founders Room Salamanca Arts Centre
The Many Forms of the Enlightened Mind
- 
Geshe Sherab
A free event
Geshe Sherab
will also lead an 
evening meditation
after the Relics Display concludes each evening of the 
Feb 15 & 16
7.30-8.30pm
- by donation
Feb 17

,18,19 -
7.30pm-9.30pm
Venue

:
The Founders Room Salamanca Arts Centre
No Time To Loose- A series of evening teachings- When the Graduated Path to Enlightenment becomes your life
-
Geshe Sherab
Venue: Multifaith Centre UTAS Sandy Bay Campus
Non residential retreat -
Actualizing The Lamrim Path
-
Geshe Sherab
Suggested Course contribution : $40  per day
FOR ALL OF THE ABOVE EVENTS WE WILL NEED A DEDICATED GROUP OF VOLUNTEERS TO ASSIST THE FACILITATION OF THE PROGRAM
THE RELIC TOUR
especially requires a large group of people to be available to assist during the weekend of 
Feb 14 -16

between 

10am - 7pm
on a rostered basis for a variety of tasks of setting up and down , guarding the Relics display , general room monitoring and crowd control.
If you volunteered for the Relic Tour in 2010 in Hobart and would be available again...please be in touch asap with your interest and availability
If you have time and willingness to help for this Tour   please email 

This email address is being protected from spambots. You need JavaScript enabled to view it.

with your personal details and possible availability  so we can be in contact with you further asap.
Accommodation required
The Maitreya Loving Kindness Tour  is hosted by two attendants that travel worldwide bringing the Relics to many and varied locations
CTCT is required to provide accommodation and meals for our two hosts ( both female). Each will need to have their own room and the location needs to be within reasonable close proximity to the Salamanca region if possible.
Each evening after the display concludes , the Holy Relics will be brought to the accommodation of the hosts for safe keeping. The location for our hosts and the Relics needs to  to be clean , simple, easily accessible and secure.
If you think you may be able to offer these requirements during the dates of 
Feb13-17
please email Lindy
This email address is being protected from spambots. You need JavaScript enabled to view it.
as soon as possible to discuss...with many thanks in advance.
-------------------------------------------------------------------------------------------------
Please check the
Calendar
for all monthly 2014 updates and program details for visiting teachers
Ven Tony Beaumont
Renate Ogilvy
Jampa Jaffe &
Practice Day dates at Multifaith Centre UTAS
----------------------------------------------------------------------------------------------------
3rd Annual Easter Retreat in the Far South, Tasmania
an extraordinarily special environment - a very special experience
We hope you can join us ! Please share this Retreat opportunity with anyone whom maybe interested