Centre News
Program update
Details
Program resumes January 16th weekly each Saturday 2pm-5pm - Guided Meditations, readings and group discussions.

* The Three Principle Aspects of the Path - http://www.fpmt.org/teachings/more/paths_sopa.asp for a topic overview.
Teachings delivered via DVD by Lama Yeshe and via Discovering Buddhism Course materials. Suitable for all levels of interest, for old and new students alike.
* Dr Sonam Takchoe resumes teaching program Saturday March 6th
Commentary on Shantidevas' Guide to the Bodhisattvas Way of Life - interactive discussions
* Golden Light Sutra Recitations on alternate weeks resuming Sunday 24th January 2pm - 5pm (please note this time change) Pujas and practices on random dates according to the Tibetan Calendar will also be scheduled throughout the year plus monthly Film nights and other social gatherings to be announced.

1st semester Calendar confirmation to be circulated shortly
Reflection on activities for 2009
Details
A summary of the main activities and news of 2009.
Read More

2009 was a very busy year for Chag Tong Chen Tong full of many and varied wonderful harmonious activities.

* Dr Sonam Takchoe once again offered his great kindness and generosity in teaching the continuing commentary on the most loved and important Mahayana text Shantidevas Guide to the Bodhisattva Way of Life. Many, many students benefited from these fortnightly teachings and we look forward very much to this course of study resuming again on 6th March 2010
* CTCT was very blessed to host visiting teachers offering many topics of interest for the community. We welcomed Ven Tony Beaumont to open our 2009 program and again in November to close for the year. Each of these visits were well attended, generally offering the ever essential essence of the Buddha dharma -topics of the Lam rim, the Graduated Path to Enlightenment.
Guide to the Bodhisattvas Way of Life with Dr. Sonam Takchoe
Details

Dr. Sonam Takchoe has once again accepted our invitation to return to CTCT to continue with commentary on Shantidevas Guide to the Bodhisattvas Way of Life. We are up to Chapter 8.
Dates to be confirmed.
Workshops for the mind from a Buddhist perspective
Details
NOVEMBER 10 - 15 with visiting teacher Ven Tony Beaumont. Australian monk ordained in the Tibetan Buddhist Tradition for 18 years, currently residing & studying at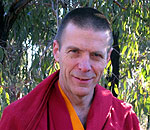 Nalanda Monastery in southern France. www.nalanda-monastery.eu

Tuesday 10
7.30 pm Mindfulness - The art of paying attention - meditation methods for today

Wednesday 11
7.30 pm Minimize stress Maximize Success. Be introduced to methods useful to transform stressful situations - with advantages for all