CTCT are delighted to welcome Ven Namgyel once again to Hobart for his 3rd visit
Staying with us for July and August we have a wonderful Program of teachings, workshops, and activities planned, sure to warm the winter months for us all.
We look forward to welcoming you to join us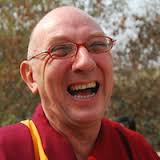 Venerable Lobsang Namgyel, an FPMT Registered teacher of Australian nationality, has been living in India and Nepal studying Buddhism for more than 28 years with such masters as H.H. the Dalai Lama, Denma Locho Rinpoche, Choden Rinpoche and Geshe Sonam Rinchen. Ven Namgyel is a dedicated student also of Lama Zopa Rinpoche and the late Ken Rinpoche Lama Lhundrup, previous Abbot of Kopan Monastery.  He has completed four years of lam-rim retreats, as well as many tantric retreats. During his more than twenty-eight years in Buddhism, he has taught at various FPMT centres in many countries around the world , including India, Nepal, Mexico, Australia, New Zealand, Russia, Finland, Sweden, Denmark, Lithuania, Latvia, Germany, France, the UK, Bangladesh and the USA. Ven Namgyel had the honour of being the attendant and tutor to Lama Osel Rinpoche ( the recognised reincarnation of FPMT Founder Lama Thubten Yeshe ) for one year in 1990, helping with Tibetan prayers, memorising and English language.
Ven Namgyel is also an accomplished qualified Reiki Master and is kindly offering a weekend course, Self Reiki Level 1, during his stay with CTCT in August
Check the Calendar for Course details
A Glimpse of the Program:
JUNE
Sat-  25 - Welcome celebration – The Art of Happiness - A Buddhist Perspective 1-4pm
JULY
Sat 2 – Discovering Buddhism - Presenting the Path -an overview 1-4pm
Sun 10,17,24,31 Aug 7 - Introductory / Meditation 101 for everyone 10am-11.30
Wed 6,13,20,27 - Chi Gong - movement for Health and wellbeing followed by Guided Loving Kindness meditation 6pm-7.30pm
Sat 9- HHDL Birthday day event with CTCT & Tibetan Community at KickstartArts 1-4pm
Sat 23 - One Day Medicine Buddha Retreat 10am-3pm
Sat 30 - Healing Disturbing Emotions 1-4pm
AUGUST
Wed 3, 10, 17 - The Art of Patience - Healing the demon of anger 6 - 7.30pm
Sat 6 -  Karma and  Purification with Vajrasattva 1-4pm
Sat 13 - Sun 14 - Reiki - Course Certificate Level 1
Sat 21 - All About Tara 1-4pm - Final teaching with Ven Namgyel
A word from Ven Rita … also an FPMT Registered teacher

"Wherever Venerable Namgyel teaches, he is always asked to come back. Because he is in contact with his own good heart, he is able to touch people on a level that goes much deeper than just intellectual understanding. Having done a lot of individual retreats he has familiarized and integrated the topics in his way of living, and so teaches out of experience. Then through his humour, he relaxes people totally, and even difficult topics seem like a piece of cake. Venerable is especially loved for the deep concern that he has, and shows, for the well-being of the participants of the course, and puts a lot of energy and time into helping them to find a way to practice which suits them."
Some great teaching videos by Ven Namgyel :
MIND WORKSHOPS - video presentations in Spain with Ven Namgyel