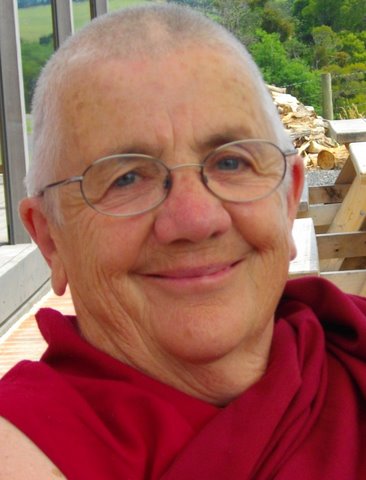 CTCT WARMLY WELCOMES
VEN TENZIN CHONYI
[Dr Diana Taylor BSc,M.Ed.,PhD,MAPS.]
to HOBART
JOIN US
for 3 inspiring opportunities
Public Presentation -
Fullers Bookshop Nov 24
One Day Workshop -            ENOUGH! Nov 26
Mind and Its Potential -Afternoon Retreat Nov 27
~~~~~~~~~~~~~~~~~~~~~~~~~~~~~~~~~~~~~~~~~
Ven Tenzin Chonyis' new book ENOUGH ! is a hands on guide to help put an end to the patterns that sabotage the potential for a true and satisfying happiness~ a practical path that releases us from the grip of negative habits.Presenting th essence of  Buddhism without the jargon ,fusing it with Western psychology, Ven Chonyi engagingly combines practical exercises developed through her workshops with meditations and stories and presents invaluable insights about how the mind works.
BIOGRAPHY
Chönyi Taylor (Dr. Diana Taylor) was ordained as a Buddhist nun by the Dalai Lama in 1995. Active in the worlds of both Buddhism and Western psychology, she teaches Buddhism from simple to advanced levels and participates in interfaith conferences and workshops for psychologists and health professionals. She is currently a lecturer and supervisor in the Graduate Diploma Program in Buddhism and Psychotherapy for the Australian Association of Buddhist Counselors and Psychotherapists and is an honorary lecturer in Psychological Medicine at Sydney University.
"ENOUGH!
A BUDDHIST APPROACH TO FINDING RELEASE FROM ADDICTIVE PATTERNS"
is published by Snow Lion www.snowlionpub.com
~~~~~~~~~~~~~~~~~~~~~~~~~~~~~~~~~~~~~~~~~~~~~~~~~~~~~~~~~~~~~~~
PUBLIC PRESENTATION & book signing
Where: FULLERS BOOKSHOP 131 Collins St Hobart
When: November 24 Thursday 6pm
ENOUGH !
ONE DAY WORKSHOP
Where: CWL Hall 108 Bathurst St Hobart
When: November 26 10am-4.30pm
'A presenation of practical exercises and profound aplication of spiritual principles in awareness cultivation for reconditioning the heart and mind -  for anyone looking for a powerful and effective way out of addiction, regardless of religous or secular background - a clear and honest approach to living life while walking a spiritual path - a tremendous opportunity to tranfrom the pain of our destructive behaviours into the fruit of spiritual awakening
An interactive day of discourse, storytelling, discussion and guided contemplations '
Full Day suggested contribution $65
Included course materials, vegetarian lunch and refreshments
Registration | Inquiries: via email This e-mail address is being protected from spambots. You need JavaScript enabled to view it or Ph : + 61 3 62679203
Personal Interview Monday 28 - requests via email or Phone (as above)
MIND & ITS POTENTIAL Afternoon Retreat
Where: CWL HALL 108 Bathurst St Hobart
When: November 27 1pm- 4.30pm
Discourse and guided meditations Module 1 Discovering Buddhism Guidelines
Suggested contribution $10