Dear Merit Box participants & Holy Object News
If you have  already forwarded the contents of your 2010 Merit Box collection for inclusion of donation from CTCT  to the Merit Box Project , THANK YOU SO MUCH ....if not ,please can you do this asap .The collective deposit from CTCT will be made on February 1st.
If you would like to know more about becoming a Mert Box participant for 2011 , please email This e-mail address is being protected from spambots. You need JavaScript enabled to view it
You can make a direct deposit into CTCT account
CBA
Chagtong Chentong Inc.
BSB : 06 7105 ACC # :10221360
or post a personal cheque or Money order made out to Chagtong Chentong Inc C/- PO Box 195 Snug Tasmania 7054
This is a very beautiful simple offering practice with extraordinarily vast benefits.
Please visit  http://www.fpmt.org/projects/fpmt/merit-box.html
The International Merit Box Project brings together an international community of practitioners who wish to foster their daily practice of generosity while helping Lama Zopa Rinpoche fund beneficial projects worldwide.  The international success of the Merit Box Project is reason for great rejoicing and a true testament to the collective generosity of the FPMT community.
"When we practice generosity, we are applying the exact antidote to attachment."
-Lama Zopa Rinpoche
Each year the Merit Box Project offers an opportunity for Grant application from Centres for funds to benefit a planned project or an activity in progress
In 2009 $70,000 was distrubuted amongst 15 successful applicants within the FPMT Community.
Chagtong Chentong Centre was one of those successful applicants !
We recieved a $3700 grant towards the transport costs of bringing our Golden Buddha statue from Thailand and then across the Tasman Sea  to Tasmania
( The Statue is currently being housed at Atisha Centre Bendigo)
It has been a slow process..but we have a very beautiful  1.8 mtre Buddha Statue being finally delivered to us this New Year and being stored in a private home whilst it is being completed. Although at this moment we do not have a permanent location for this statue to be housed , it is upon the advice of Lama Zopa Rinpoche for us to acquire Holy Objects to create the merit, the good positive potential, needed for us to have a stable location for the activities of the Centre to flourish and grow long into the future, to be most beneficial.
The statue that has been acquired is a fiberglass resin replica of the Jade Buddha  http://www.jadebuddha.org.au/  and can be utilized as either an outside garden statue  or an inside feature.
Johnathan Partridge , an artist and sculptureer, currently residing in Hobart , is the artist of the beautiful face of the Jade Buddha which he worked on closely with Lama Zopa Rinpoche throughout all its stages until  completion. Johnathan has also done some exquisite art work for many other statues ,especially at our Nalanda Monastery.France.
***Pictures attached below show replica of our Golden Statue and also the face of the Shakyamuni Statue in the Main Gompa of Nalanda Monastery which is the work also of Johnathan Partridge.
CTCT held a Public Event  in August 2009 ...The Benefit of the Buddha / CTCT General Open Day…to raise awareness of our envisioned project and of the Centres activities generally, and the importance of Holy Objects in connection with the Dharma flourishing, also emphasizing the importance of the preservation of the Mahayana Tradition and  Tibetan art and culture outside of Tibet.We had beautiful example of carpets on display from Rugs of Tibet http://www.rugsoftibet.com/,made by and benefiting Tibetan Refugees in Nepal and also a small exhibition of applicae' artwork from the Norbulinghka Institute in India http://www.norbulingka.org and delicious momos prepared and offered to us by Hobarts small Tibetan Community on the day.
We have been quietly working behind the scenes  organizing the delivery and then the process of filling to come in progress  ( with many millions of rolled mantras and precious substances needed to be acquired and organized - most of this will  be coming from Kopan Monastery Nepal- the Kopan Nuns http://www.kopannunnery.org will be rolling all the many mantras for us ) the consecration requirements  and plans of having the face gilded with gold leaf , planning and construction of a base and alter to house the statue....all these things are in their early stages of actualization.
We will have a dedicated page on our new website soon to be available... HOLY OBJECTS which will be kept up to date on the progress ..and let you  how you can help with volunteer energy, join a planning committee, or a working bee when required, create and / or host a fundraiser so that as many people can be involved as possible and the  many more and varied ways that you can be involved as time and events unfold.
Attached is a photo of a finished statue ( the same as ours ) which is in the Gardens of Atisha Centre,  in Bendigo.
(When the opportunity in 2007-08 to order theses statues was advised a total of 6 Centres and individuals in the Vietnamese community in Australia ordered and the Statues were shipped from Thailand where they were made at The Jade Buddha Workshop there)
with warmest thanks always for your interest and support.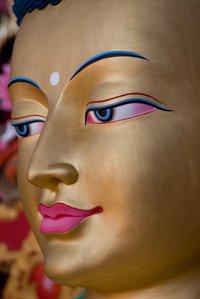 Buddha at Nalanda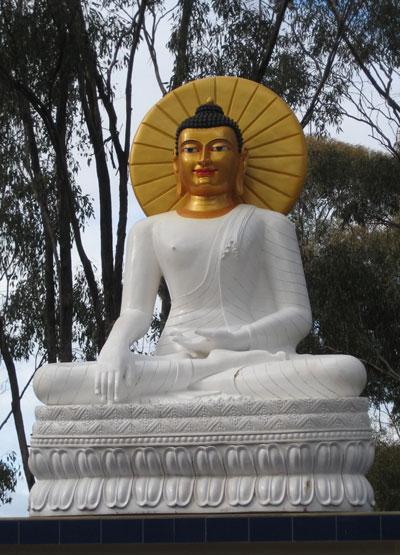 Replica of our Buddha at Atisha Centre Bendigo